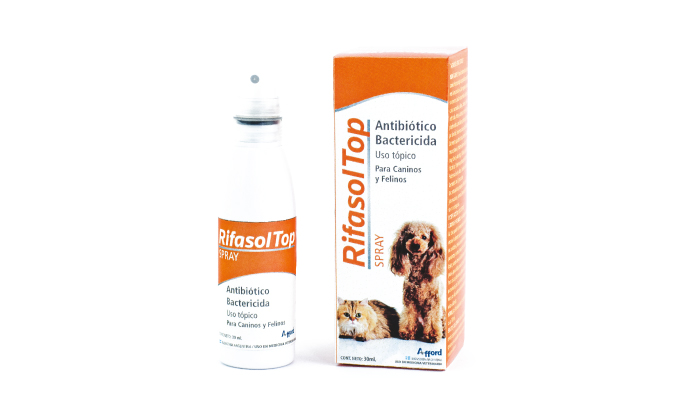 Watery solution for topic use
Bactericidal antibiotic
For canines and felines
For Intracavitary use
Unique in market
Practical presentation in spray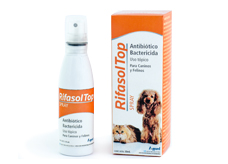 PRESENTATION: 30 and 100 ml bottle with spray nozzle.
FORMULA: Rifamycin: 1g; Excipients for 100 ml.
INSTRUCTIONS: For the treatment of contagious illnesses caused bay Gram-positive and Gram-negative germs that are sensitive to its spectrum. Apply on wounds, sores, boils, burns; piodermitis and deep surfaces, concomitant with the parenteral therapy, dermatitis for licking.
SUPPLY AND DOSAGE: Canines and felines: 3 to 4 diary applies (dose can be increased if necessary). It is used for local washes or to instill in cavities, after an aspiration of the purulent content and an eventual wash with a physiological solution. It can be used to shrink gauzes and for infiltrations in infected zones.
External use. Apply on wounds, sores, boils, burns, etc. Spray the infected zone 3 or 4 times a day and put some bandage to avoid licking.